Hyundai i-30: Convenient features of your vehicle / Steering wheel
Electric power steering (EPS)
The system assists you with steering the vehicle. If the engine is off or if the power steering system becomes inoperative, the vehicle may still be steered, but it will require increased steering effort.
Also, the steering effort becomes heavier as the vehicle's speed increases and becomes lighter as the vehicle's speed decreases for better control of the steering wheel.
Should you notice any change in the effort required to steer during normal vehicle operation, we recommend that the system be checked by a HYUNDAI authorised repairer.
NOTICE
If the Electric Power Steering System does not operate normally, the warning light () will illuminate or blink on the instrument cluster. The steering wheel may become difficult to control or operate.Take your vehicle to a HYUNDAI authorised repairer and have the system checked as soon as possible.
When abnormality is detected in the electric power steering system, to prevent a deadly accident, the steering assist function will stop. At this time, the warning light turns on or blinks on the cluster. The steering wheel may become difficult to control or operate. Have your vehicle checked immediately, after moving the vehicle to a safe zone.
Information
The following symptoms may occur during normal vehicle operation:
The steering effort may be high immediately after placing the ignition switch button in the ON position. This happens as the system performs the EPS system diagnostics. When the diagnostics are completed, the steering wheel will return to its normal condition.
A click noise may be heard from the EPS relay after the ignition switch is placed in the ON or LOCK/OFF position.
Motor noise may be heard when the vehicle is at a stop or at a low driving speed.
When you operate the steering wheel in low temperatures, abnormal noise may occur. If the temperature rises, the noise will disappear. This is a normal condition.
When the vehicle is stationary, if you turn the steering wheel all the way to the left or right continuously, the steering wheel effort increases. This is not a system malfunction. As time passes, the steering wheel effort will return to its normal condition.
Categories
If your vehicle is equipped with a sunroof, you can slide or tilt your sunroof with the sunroof control lever located on the overhead console.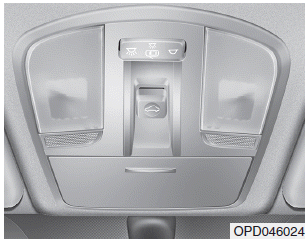 The ignition switch must be in the ON position before you can open or close the sunroof.
The sunroof can be operated for approximately 30 seconds after the ignition key is removed or turned to the ACC or LOCK(or OFF) position. However, if the front door is opened, the sunroof cannot be operated even within 30 seconds.