Hyundai i-30: Panorama sunroof / Closing the sunroof
To close sunroof glass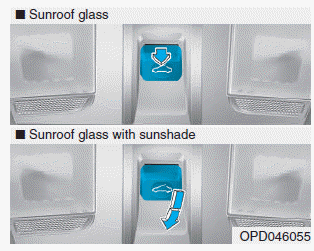 Push the sunroof control lever forward to the first detent position.
To close sunroof glass with sunshade
Push the sunroof control lever forward to the second detent position. The sunroof glass will close then the sunshade will close automatically.
To stop the sunroof movement at any point, push the sunroof control lever either forward or backward momentarily.
Automatic reverse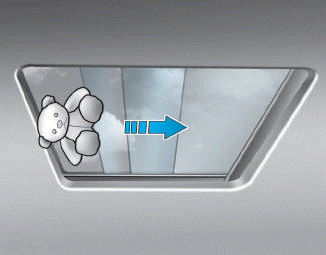 If the sunroof senses any obstacle whilst it is closing automatically, it will reverse direction then stop to allow the object to be cleared.
WARNING
Small objects that can get caught between the sunroof glass and the front glass channel may not be detected by the automatic reverse system. In this case, the sunroof glass will not detect the object and will not reverse direction.
WARNING
In order to prevent accidental operation of the sunroof, especially by a child, do not let a child operate the sunroof.
Do not sit on the top of the vehicle. It may cause vehicle damage.
NOTICE
Periodically remove any dirt that may accumulate on the sunroof guide rail or between the sunroof and roof panel, which can make a noise.
Do not try to open the sunroof when the temperature is below freezing or when the sunroof is covered with snow or ice, otherwise the motor could be damaged. In cold and wet climates, the sunroof may not work properly.
Categories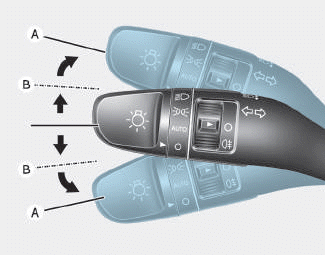 To signal a turn, push down on the lever for a left turn or up for a right turn in position (A). To signal a lane change, move the turn signal lever slightly and hold it in position (B).The lever will return to the OFF position when released or when the turn is completed.