Hyundai i-30: Cylinder Head Assembly / CVVD Assembly
Description and operation
CVVD (Continuous Variable Valve Duration) System is a device to control the optimum open and close timing according to the driving mode by changing the valve opening section.
It is composed of cam shaft, CVVD assembly, and CVVD acatuator.
The valve opening time operates in proportion to the rpm of control shaft.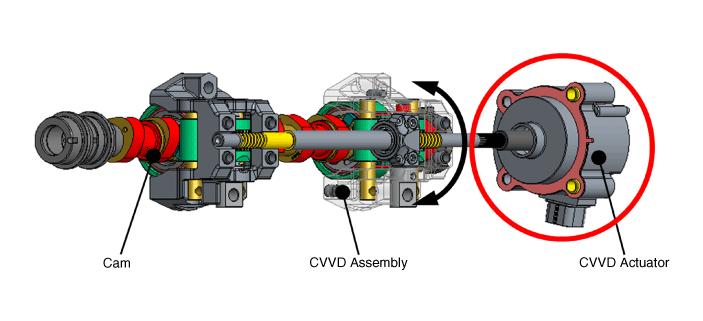 [CVVD System Operating Mode]
Optimum Valve Timing by Engine Load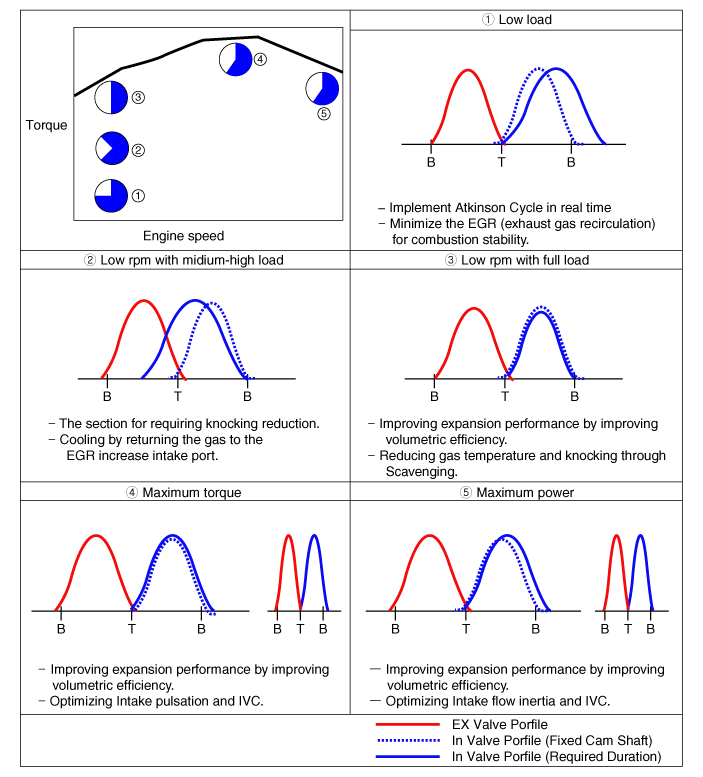 Repair procedures
| | |
| --- | --- |
| 1. | Disconnect the battery negative terminal. |
| | |
| --- | --- |
| 2. | Remove the timming chain. |
3.

Remove the intake CVVT assembly (A) and exhaust CVVT assembly (B).

| | |
| --- | --- |
| • | When removing the CVVT assembly hold the camshaft with a wrench to prevent the camshaft from rotating. |
| | |
| --- | --- |
| 4. | ve the camshaft front bearing cap (A) and camshaft bearing caps (B). |
5.

Remove the CVVD assembly.

| | |
| --- | --- |
| • | After removing the CVVD unit, make sure that the parts such as lifter, cam, etc are not separated. |

| | |
| --- | --- |
| • | Ensure that the CVVD components are not damaged. |

Use the CVVD fixture

| | |
| --- | --- |
| (1) | stall the CVVD fixture (A) over the CVVD assembly. |

| | |
| --- | --- |
| (2) | Remove the CVVD assembly (A). |

Do not use the CVVD fixture

| | |
| --- | --- |
| (1) | Remove the CVVD assembly (A). |
| | |
| --- | --- |
| 6. | Remove the exhaust camshaft (A). |
| | |
| --- | --- |
| 1. | Install the exhaust camshaft (A). |
2.

Install the CVVD assembly (A).

| | |
| --- | --- |
| • | After installing the CVVD, check whether the swing arm is separated or is installed correctly. |

•

When installing the intake camshaft, spray the engine oil to the camshaft journal installing part (A) of the cam carrier.

The amount of application should be enough to flow down both the front and back sides when it is applied to the center.

| | |
| --- | --- |
| • | For installation, the timing mark (A) of the intake CVVT and the timing chain mark (B) should be matched. |

| | |
| --- | --- |
| • | During the installation, there should be no artifical rotation or movement of the guide bracket and control shaft. |

| | |
| --- | --- |
| • | When removing the CVVD fixing jig, be sure to securely tighten the M6 bolts. |

| | |
| --- | --- |
| • | If CVVD fixing jig is available, be sure to work by using it. |

Use the CVVD fixture

1)

When installing the CVVD assembly mounting bolts (M6), tighten sequence shown.

Tightening torque :

1ST

4.9 - 6.9 N.m (0.5 - 0.7 kgf.m, 3.6 - 5.1 lb-ft)

2nd

9.8 - 11.8 N.m (1.0 - 1.2 kgf.m, 7.2 - 8.7 lb-ft)

| | |
| --- | --- |
| 2) | Remove the CVVD fixture (A). |

3)

Tighten the CVVD assembly mounting bolts (M8) according to the tightening sequence shown below.

Tightening torque :

9.8 - 11.8 N.m (1.0 - 1.2 kgf.m, 7.2 - 8.7 lb-ft)

| | |
| --- | --- |
| 4) | Remove the CVVD assembly mounting bolts (M6) (A). |

5)

Tighten the CVVD assembly mounting bolts (M6) according to the tightening sequence shown below.

Tightening torque :

4.9 - 6.9 N.m (0.5 - 0.7 kgf.m, 3.6 - 5.1 lb-ft)

6)

Tighten the CVVD assembly mounting bolts (M8) according to the tightening sequence shown below.

Tightening torque :

18.6 - 22.6 N.m (1.9 - 2.3 kgf.m, 13.7 - 16.6 lb-ft)

7)

Tighten the CVVD assembly mounting bolts (M6) according to the tightening sequence shown below.

Tightening torque :

9.8 - 11.8 N.m (1.0 - 1.2 kgf.m, 7.2 - 8.7 lb-ft)

8)

Measure the clearance between the control shaft bearing cap and the end of control shaft using a clearance gauge.

Clearance : 0.0 - 0.05 mm (0.0 - 0.002 in.)

Do not use the CVVD fixture

1)

Tighten the CVVD assembly mounting bolts (M6) according to the tightening sequence shown below.

Tightening torque :

4.9 - 6.9 N.m (0.5 - 0.7 kgf.m, 3.6 - 5.1 lb-ft)

2)

Tighten the CVVD assembly mounting bolts (M8) according to the tightening sequence shown below.

Tightening torque :

9.8 - 11.8 N.m (1.0 - 1.2 kgf.m, 7.2 - 8.7 lb-ft)

3)

Tighten the CVVD assembly mounting bolts (M8) according to the tightening sequence shown below.

Tightening torque :

18.6 - 22.6 N.m (1.9 - 2.3 kgf.m, 13.7 - 16.6 lb-ft)

4)

Tighten the CVVD assembly mounting bolts (M6) according to the tightening sequence shown below.

Tightening torque :

9.8 - 11.8 N.m (1.0 - 1.2 kgf.m, 7.2 - 8.7 lb-ft)

| | |
| --- | --- |
| 5) | Release the torque of control shaft bearing cap bolt (A). |

| | |
| --- | --- |
| 6) | Push the control shaft bearing cap as close as possible in the direction of the arrow. |

7)

Install the control shaft bearing cap mounting bolts (A).

Tightening torque :

9.8 - 11.8 N.m (1.0 - 1.2 kgf.m, 7.2 - 8.7 lb-ft)

8)

Measure the clearance between the control shaft bearing cap and the end of control shaft using a clearance gauge.

Clearance : 0.0 - 0.05 mm (0.0 - 0.002 in.)
3.

Install the intake CVVT assembly (A) and exhaust CVVT assembly (B).

| | |
| --- | --- |
| • | When removing the CVVT assembly hold the camshaft with a wrench to prevent the camshaft from rotating. |
4.

Install the front camshaft bearing cap and the camshaft bearing caps as following method with specified torque.

Tightening torque :

A(M8) : 18.6 - 22.6 N.m (1.9 - 2.3 kgf.m, 13.7 - 16.6 lb-ft)

B(M6) : 11.7 - 13.7 N.m (1.2 -1.4 kgf.m, 8.6 - 10.1 IB-ft)
| | |
| --- | --- |
| 5. | Install the other parts in the reverse order of removal. |
Categories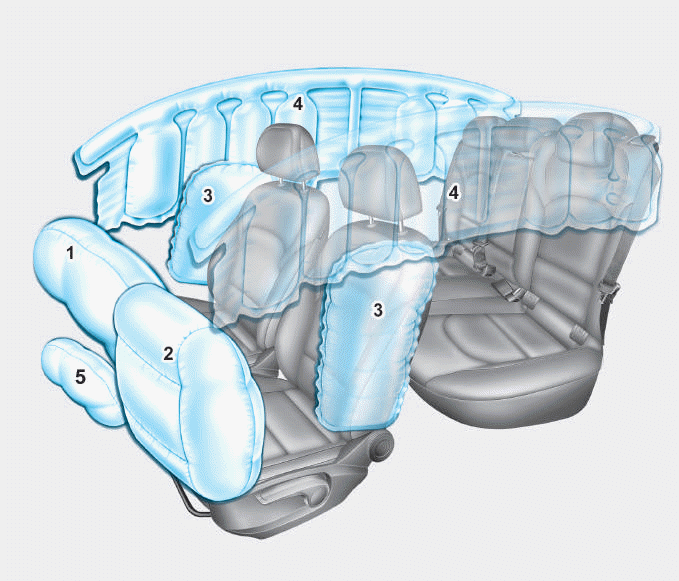 1. Driver's front air bag
2. Passenger's front air bag
3. Side air bag*
4. Curtain air bag*
5. Knee air bag*
6. Front passenger air bag ON/OFF switch