Hyundai i-30: Smart key / Tailgate unlocking, Start-up
Tailgate unlocking
To unlock:
1. Carry the smart key.
2. Either press the tailgate handle button or press the Tailgate Unlock button (3) on the smart key for more than one second.
3. The hazard warning lights will blink two times.
Information
The Tailgate Unlock button (3) will only unlock the tailgate. It will not release the latch and open the tailgate automatically. If the Tailgate Unlock button is used, someone must still press the tailgate handle button to open the tailgate.
After unlocking the tailgate, the tailgate will lock automatically after 30 seconds unless the tailgate is opened.
Start-up
You can start the engine without inserting the key. For detailed information refer to the Engine Start/Stop button in chapter 5.
NOTICE
To prevent damaging the smart key:
Keep the smart key away from water or any liquid and fire. If the inside of the smart key gets damp (due to drinks or moisture), or is heated, internal circuit may malfunction and may void the vehicle warranty.
Avoid dropping or throwing the smart key.
Protect the smart key from extreme temperatures.
NOTICE
Always have the smart key with you when leaving the vehicle. If the smart key is left near the vehicle, the vehicle battery may be discharged.
Categories
Seat belt warning
Driver's seat belt warning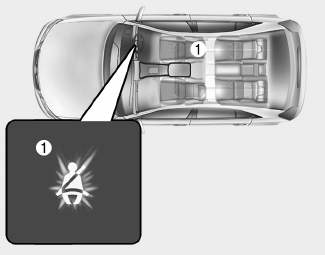 ■ Instrument cluster
As a reminder to the driver, the seat belt warning light will illuminate for approximately 6 seconds each time you turn the ignition switch ON regardless of belt fastening.