Hyundai i-30: Ignition switch / Engine Start/Stop button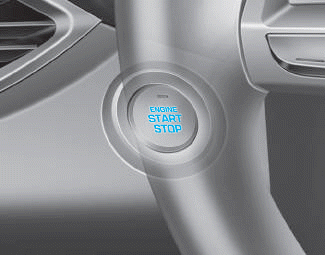 Whenever the front door is opened, the Engine Start/Stop button will illuminate and will go off 30 seconds after the door is closed.
WARNING
To turn the engine off in an emergency:
Press and hold the Engine Start/ Stop button for more than two seconds OR Rapidly press and release the Engine Start/Stop button three times (within three seconds).
If the vehicle is still moving, you can restart the engine without depressing the brake pedal by pressing the Engine Start/Stop button with the shift lever in the N (Neutral) position.
WARNING
NEVER press the Engine Start/ Stop button whilst the vehicle is in motion except in an emergency. This will result in the engine turning off and loss of power assist for the steering and brake systems. This may lead to loss of directional control and braking function, which could cause an accident.
Before leaving the driver's seat, always make sure the shift lever is in the P (Park) position, set the parking brake, press the Engine Start/ Stop button to the OFF position, and take the Smart Key with you. Unexpected vehicle movement may occur if these precautions are not followed.
WARNING Always wear appropriate shoes when operating your vehicle. Unsuitable shoes, such as high heels, ski boots, sandals, flip-flops, etc...
Other information:
If the remote key is not working properly, try replacing the battery with a new one. Battery Type: CR2032 To replace the battery: 1. Insert a slim tool into the slot and gently pry open the cover. 2. Using a screw driver, remove the battery cover...
Front seat warmers Seat warmers are provided to warm the seats during cold weather. WARNING The seat warmers can cause a SERIOUS BURN, even at low temperatures and especially if used for long periods of time. Passengers must be able to feel if the seat is becoming too warm so they can turn it off, if needed...
Categories
Operating door locks from outside the vehicle
Mechanical key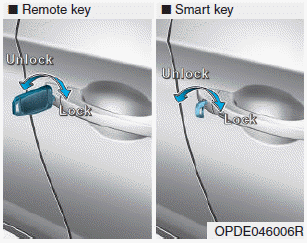 Turn the key toward the rear of the vehicle to unlock and toward the front of the vehicle to lock.
If you lock/unlock the driver's door with a key, a driver's door will lock/unlock automatically.