Hyundai i-30: ISG (Idle Stop & Go) System / Repair procedures
Operating Condition for the ISG function
1. Auto stop or Auto start condition
▶ If all of the below conditions are satisfied
| | |
| --- | --- |
| • | If the following conditions are not met, entry into the ISG system is prohibited. |
Component

Conditions

Remark

AT

MT

ISG OFF Switch

OFF

OFF

ISG OFF switch indicator lamp ->OFF

Drive door / Seat belt / Hood

Closed

Closed



Gear state

D range or N range

Neutral

When gear is shifted to R, entry into the ISG system is prohibited.

Brake pedal

ON (Auto Stop) / OFF (Auto Start)

-



Clutch pedal

-

OFF (Auto Stop) / ON (Auto Start)



Vehicle speed

When entering below 0 kph after driving above 5 kph.

When entering below 5 kph after driving above 10 kph.

Idle stop is possible when shifting the gear from D to N after stopping (allowed only once)

A/C System

When conditions of full auto air conditioner/manual air conditioner are satisfied

When conditions of full auto air conditioner/manual air conditioner are satisfied

Outside temperature is within -20 ~ 50 degrees

MDPS

Within 180 degrees

No limit



RR Defogger switch

Gasoline : OFF / Diesel : irrelevant

Gasoline : OFF / Diesel : irrelevant



Battery (Charge / discharge)

Over SOC 68%

Over SOC 68%



Engine Coolant Temperature

Gasoline : 70 ~ 75°C / Diesel : 20 ~ 30°C

Different depending on the region and vehicle model

Ambient pressure

Over 750hPa

No limit



Slope

From -5 to 12% (some SUV's are from -5 to 8%)

No limit



ECM / TCM

When conditions (temperature, DTCs, OBD diagnosis, etc.) are satisfied

In case of diesel, ISG operation is prohibited when regenerating the DPF.

ISG system error

No occurred



| | |
| --- | --- |
| • | In congested areas, if the driver wishes to stop the vehicle and change lever from D→N, the ignition will turn OFF. |
2. Conditions for forced restart (If none of the below condition is not satisfied)
Component

Conditions

Remark

AT

MT

A/C System (Blower Max)

ON

ON

If more than 5/8, it is judged as max

RR Defogger switch

ON

ON



Comfortable

Full auto air conditioner/manual air conditioner request

Full auto air conditioner/manual air conditioner request

Based on the evaporator temperature and time

Battery voltage

If the charge/discharge performance are not satisfied

If the charge/discharge performance are not satisfied

Different depending on the region and vehicle model

Brake vacumm

Over -35 kPa

Over -35 kPa



Vehicle speed

Over 1.5 kph

Over 6 kph



Seat / Door

When opened during brake pedal On.

None (The message is displayed on the instrument cluster)

Ensuring safety

Hood

Engine start with key when the hood is opened

None (The message is displayed on the instrument cluster)

When operating the brake and accelerator simultaneously

Engine is restarted immediately

-

ISG OFF Switch

Engine is restarted immediately

-



| | |
| --- | --- |
| • | When the battery negative (-) terminal is disconnected, the battery sensor is deactivated. So, after reinstalling the battery sensor, make sure to activate it. |
| | |
| --- | --- |
| • | The battery sensor is activated when the vehicle is left in parking status for about 4 hours after battery negative (-) terminal is connected to the battery. |
| | |
| --- | --- |
| • | Even if the battery sensor is deactivated, the ISG may operate restrictively but for normal ISG operation, the battery sensor must be activated. |
ISG system deactivation by fault.
| | |
| --- | --- |
| – | Fault in communication line (LIN/CAN) |
| | |
| --- | --- |
| – | Fault brake booster vacuum pressure sensor |
| | |
| --- | --- |
| – | When starter motor needs to be replaced as its life has ended due to the use of ISG for a long period of time |
As stated above, if the sensors and parts related to the ISG are faulty or system error occurs, the ISG indicator (yellow) will blink for 5 seconds then remains ON and the message "Check Engine Auto Stop System" is displayed on the instrument cluster. At this time, the ISG OFF switch indicator turns ON.
Especially, when the battery sensor is reinstalled after replacing or removing it, ISG system will operate normally as battery sensor becomes normal after the vehicle is left in parking status for about 4 hours.
However, when keeping the ignition switch OFF condition after extracting the key, power lines of all the personal electrical devices (ex: navigation, black box, etc) must be disconnected other than the standard electrical devices installed in assembly line.
(However, it may take a long time depending on the vehicle condition)
| | |
| --- | --- |
| • | Before leaving the car or doing anything in the engine room area, stop the engine by turning the ignition key to the LOCK position or removing it. |
Schematic Diagram • The ISG system is strongly networked with the power management...
Other information:
Description and operation Description Indirect Tire Pressure Monitoring System (TPMS) Using a wheel speed signal from the ESC, the system analyzes the turning radius of the tire and change in tire stiffness to detect a pressure loss...
When not using the ISOFIX system, all Child Restraint Systems must be secured to a rear seat with the lap part of a lap/shoulder belt. Installing a Child Restraint System with a lap/shoulder belt To install a Child Restraint System on the rear seats, do the following: 1...
Categories
If your vehicle is equipped with a sunroof, you can slide or tilt your sunroof with the sunroof control lever located on the overhead console.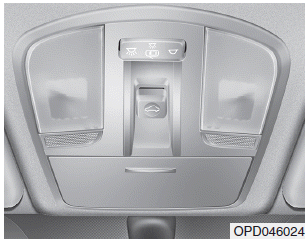 The ignition switch must be in the ON position before you can open or close the sunroof.
The sunroof can be operated for approximately 30 seconds after the ignition key is removed or turned to the ACC or LOCK(or OFF) position. However, if the front door is opened, the sunroof cannot be operated even within 30 seconds.