Hyundai i-30: Air bag - supplemental restraint system / Why didn't my air bag go off in a collision?
There are certain types of accidents in which the air bag would not be expected to provide additional protection. These include rear impacts, second or third collisions in multiple impact accidents, as well as low speed impacts. Damage to the vehicle indicates a collision energy absorption, and is not an indicator of whether or not an air bag should have inflated.
Categories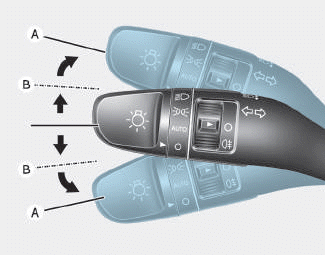 To signal a turn, push down on the lever for a left turn or up for a right turn in position (A). To signal a lane change, move the turn signal lever slightly and hold it in position (B).The lever will return to the OFF position when released or when the turn is completed.